LOS ANGELES ELECTRONIC COMPOSER HYDRAH
FINDS HARMONY IN THE MIDST OF CULTURAL TURMOIL
ON HER NEW TRACK
"BEAUTY IN CHAOS" OUT NOW
LISTEN TO "BEAUTY IN CHAOS" :
SPOTIFY | APPLE MUSIC | ITUNES | | AMAZON | SOUNDCLOUD
"The song is ominous but seductive. It lures you in with its upbeat snares and bassline."
– THIS SONG SLAPS
Los Angeles electronic composer Hydrah (Katie Kramarczuk) is excited to release her "Beauty in Chaos," the second single from her forthcoming EP Siren (out June 2nd).
"Beauty in Chaos" was composed from Hydrah's observance of the major political, social and environmental changes happening around the world. In the midst of this disarray Hydrah chose to take steer her focus to all the beauty in the world, both big and small. In doing so, she found the turmoil to be transformative and motivational. Her intention with the composition and lyrical content … Read the rest
WAYFARING DUO ERIC & MAGILL RELEASE THE DREAMY AND EARTHY "TIGHTROPE"
AND ANNOUNCE THEIR NEW ALBUM
PEACH COLORED ORANGES DUE OUT MAY 12
LISTEN ON :
SPOTIFY | APPLE MUSIC | AMAZON | ITUNES | SOUNDCLOUD
"…Eric & Magill's best sonic attribute is the beauty of its songs." – Milwaukee Magazine
Ryan Weber and Eric Osterman, who make up the duo Eric & Magill are excited to announce the release of "Tightrope," available today on all major streaming services, and on iTunes with the pre-order of their forth coming fourth album, Peach Colored Oranges (out May 12). The two have a very special connection, that was fused by the space and being in different geographic locations and timezones.
"Tightrope" penned by Weber is a sharp reflection on the fleeting nature of the modern world. Weber went from living on the side of a mountain in a remote desert … Read the rest
LISTEN ON : Spotify | SoundCloud | Apple Music
"Alluxe, you are a badass, and you certainly have our attention." – Hypebae
World renowned performer, producer and technologist Alluxe's newest offering "Fervor" is available worldwide on all major digital platforms. The definition of FERVOR is an intense or passionate energy. The track features driving beats, experimental distortion, lush strings and dreamy vocals – taking the listener through a series emotions and sonic experiences.
"Since most of my music is based on energy and emotions rather than lyrics, I wanted to choose a title that represented where I was at in my life right now," says Alluxe.  "Throughout this Equinox I have been tuning into the dualistic energies that exist in all of us. Carl Gustav Jung coined the terms 'Anima' and 'Animus' which refer to the male energies present within the female, and female energies present within the male. Through … Read the rest
HYDRAH RELEASES THE CINEMATIC TRACK  "OMINOUS" AVAILABLE  NOW
OFF  OF THE SIREN EP DUE OUT  MAY 26
MELDING HER CLASSICAL, ELECTRONIC AND SCIENCE BACKGROUNDS
LISTEN TO "OMINOUS" ON :
SPOTIFY | APPLE MUSIC | ITUNES | YOUTUBE | AMAZON | SOUNDCLOUD
Los Angeles artist Hydrah (Katie Kramarczuk), is in a category all her own. Her latest musical offering,  "Ominous" showcases her mastery of two powerful genres: electronica and classical. The piece explores the underlying emotional juxtaposition between heavy electronic elements against soft piano and strings, that Hydrah describes as "a dichotomic tug of war between  two elements, reaching a fluid balance, taking listeners through a cinematic sound journey. The track was written as an introduction to the EP as well as the introduction to my live set," says Hydrah.  "It has dark elements; the beat, the bass, the key, but the strings were meant to represent hope, inspiration … Read the rest
ZAYDE WOLF RELEASES HIS EPIC
"BUILT FOR THIS TIME" VIDEO +  NEW EP
THE HIDDEN MEMOIR OUT TODAY
WATCH " BUILT FOR THIS TIME" HERE
"Scrawling a poetic lyric on a massive pop-rock wall of sound–hinting at Imagine Dragons and Bastille influence–the creative (whose real name is Dustin Burnett) is owning this moment, with the release of his first full-length as a ferocious WØLF." – POP DUST
Hot off the heels of his debut album Golden Age, Dustin Burnett, better known as ZAYDE WØLF, shows no indication of slowing down. The two time Grammy Nominated producer is kicking off the year with a new EP titled, The Hidden Memoir, out on now.
Listen on : SPOTIFY | ITUNES | APPLE MUSIC | AMAZON
"ZAYDE is simply the dark rock child of Imagine Dragons and The Black Keys…"– Ones to Watch
"Built for this Time" was the first ZAYDE … Read the rest
Apple Music | Spotify | ITunes | Amazon
"Expectation is an intensely humble exploration of the self through a musically and lyrically progressive, innovative and energetic avant-pop lens." -Atwood Magazine
Today, Los Angeles's upcoming avant pop singer-songwriter, XMeKate, has released the first part to her debut record, Expectation. Joining forces with producer and longtime friend, Andrés Rebellón, the two were able to create a project that is both universal and achingly personal. Filled with heavy, haunting lyrics that float within the lightness of her melodies, Kate invokes a sense of ecstasy and melancholy in equal measure.
"XMeKate's music is certainly reminiscent of Lorde, Florence + the Machine or Regina Spektor, but she is so far removed from them. Her ambitious lyrics liken her artistry to that of Fiona Apple, a personal hero" – Atwood Magazine
Over these last few months, Kate released two singles, 'Cigarettes' and 'I'll … Read the rest
TEAMMATE PUT THEIR RELATIONSHIP
ON RECORD
WITH THE RELEASE OF THEIR SELF-TITLED DEBUT ALBUM
OUT TODAY ON ROSTRUM RECORDS

LISTEN NOW
SPOTIFY | APPLE MUSIC | AMAZON | ITUNES
"….. hook studded & ready for the festival circuit." – Impose Magazine
Scott Simons (keys, synths, vocals) and Dani Buncher (vocals, drums) of TeamMate, have had a solid partnership that has culminated into the release of their self-titled debut album out today on Rostrum Records. TeamMate is packed with nine arena ready, soaring pop songs that document the journey of Dani and Scott's incredible connection.
The two were a couple for years, but Dani's coming out ended their romantic relationship. Instead of repelling like most couples do after a split, the duo's undeniable chemistry went down a new path. Their unspeakable connection was channeled into what Atwood Magazine calls "……a beautiful music collaboration."
"We've grown a lot as a band over … Read the rest
TEAMMATE KICK OFF 2017 WITH THE RELEASE OF
"DAMAGE"
AND ANNOUNCE THEIR DEBUT FULL LENGTH ALBUM, TEAMMATE
Out February 16th via Rostrum Records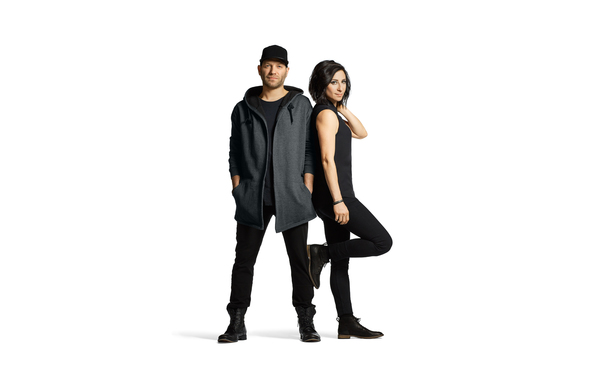 LISTEN NOW
SOUNDCLOUD | SPOTIFY | APPLE MUSIC
Ready to start the New Year off hot, Los Angeles duo TeamMate is excited to continue their multi-faceted musical and personal relationship with the release of the head bobbing single, "Damage" out now via Rostrum Records.
"Their infectious pop-rock sound beats at the core of the group. At first glance, you might turn to cheeky anthem rock sound, until you begin really diving into the textures of high-energy drums and spirit lifting pop chorus', and really see the explosiveness of this group." – EARMILK
"Damage': https://soundcloud.com/teammateband/damage-teammate
****For listening, streaming, posting, loving etc.****
TeamMate, Scott Simons (keys, synths, vocals) and Dani Buncher (vocals, drums), have perfected the art of producing infectious pop gems with colossal depth. "Damage" is filled with … Read the rest
Los Angeles indie-pop singer XMeKate releases music video for "Cigarettes" produced by Andrés Rebellón
Check it out HERE
WATCH NOW ON YOUTUBE
LISTEN ON SOUNDCLOUD

"Katharine Kadenacy is the next pop chanteuse to watch" – Popular TV
Today, rising Los Angeles based singer-songwriter Katherine Kadenacy, who goes by XMeKate has released the visuals to her debut single 'Cigarettes' produced by Andrés Rebellón (bass for Marina & The Diamonds).
The concept of the video, which premiered on Impose Magazine, tells the story of Kate's first heartbreak, and how the first girl she ever fell for ended up cheating on her with a boy. Kate takes the viewer through the thoughts and scenarios of how the cheating came to fruition. The video also mirrors the concept between her two upcoming EPs; love and loss. "Although the loss of that relationship was painful it was nothing like what I was about to experience … Read the rest
Soundtrack for
Luke Comer's Modern Shamanic Journey
THE PORTAL
Available Today Worldwide

LISTEN NOW ON
SOUNDCLOUD | BANDCAMP | SPOTIFY | ITUNES | AMAZON
Show Opens December 3rd at the Minetta Lane Theatre in NYC
"THE PORTAL is reshaping the art of performance theater."
– The Huffington Post
Just ahead of the New York opening of THE PORTAL on December 3rd, a rock odyssey conceived and directed by Luke Comer, the updated soundtrack with new collaborations by Charles Newman (Magnetic Fields, The Bones of J.R. Jones, Soko) and David Sisko (Passion Pit, Bryan Ferry), is available today worldwide across all digital platforms.
Grabbing inspiration from the participatory culture of Burning Man, and visually dynamic, conceptual music productions like Pink Floyd's The Wall, THE PORTAL's soundtrack focuses on sonically narrating the sojourn of the protagonist Dante. Dante, a modern day everyman, sets out on a spiritual journey of self-realization to break … Read the rest