TEAMMATE KICK OFF 2017 WITH THE RELEASE OF
"DAMAGE"
AND ANNOUNCE THEIR DEBUT FULL LENGTH ALBUM, TEAMMATE
Out February 16th via Rostrum Records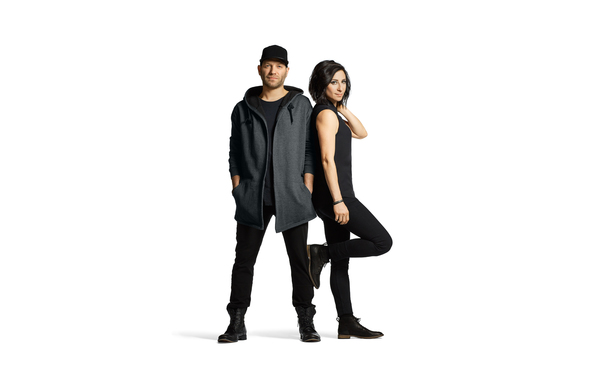 LISTEN NOW
SOUNDCLOUD | SPOTIFY | APPLE MUSIC
Ready to start the New Year off hot, Los Angeles duo TeamMate is excited to continue their multi-faceted musical and personal relationship with the release of the head bobbing single, "Damage" out now via Rostrum Records.
"Their infectious pop-rock sound beats at the core of the group. At first glance, you might turn to cheeky anthem rock sound, until you begin really diving into the textures of high-energy drums and spirit lifting pop chorus', and really see the explosiveness of this group." – EARMILK
"Damage': https://soundcloud.com/teammateband/damage-teammate
****For listening, streaming, posting, loving etc.****
TeamMate, Scott Simons (keys, synths, vocals) and Dani Buncher (vocals, drums), have perfected the art of producing infectious pop gems with colossal depth. "Damage" is filled with chiming synths and pulsing drums that give way to a shout-along chorus, but there's a definitive, sincere message bubbling beneath. "We've written a lot about our romantic breakup but this song is about the turning point for us when we realized that we could stay in each other's lives. If we could just find a way forward, we knew we were onto something special – as close friends and as band mates" says Simons. 'Musically, we both love songs with a good "Na Na" sing along like "Head Over Heels" and "Long December". We felt it was time for a new one."
Simons and Buncher know their story doesn't fit an easy description. The two were romantically involved for close to a decade. The now LA based duo met while Buncher was attending West Virginia University, and Simons fronting a band in the same town. After college the two moved to separate towns, but kept in touch exchanging music ideas and notes while writing and playing with respective former bands. They slowly became confidants and the only people that they could trust to be brutally honest with each other. Collaboration was inevitable.
Buncher's coming out ended the years of calling each other boyfriend and girlfriend, and unlike most couples who repel or drift apart after a break up, the duo's love and chemistry went down a new path and was channeled into their unspeakable musical connection. Having this creative outlet with each other carried the two through the rough patches and made things work even when everything felt in wild disarray. It acted as their therapy.
'Damage' follows the eighties tinged, heartfelt dance single "Nothing's Ever Over." These two tracks are just a glimpse of what to expect from the duo's debut full length album TeamMate (out 2/16). Packed full of massive choruses and bright shimmering melodies, the project showcases just how strong their relationship still is. "We sing 90% of the album together because we are telling our story – what we'd been through as a couple, the break up, the figuring out what's next and now the band." Simons explains. "We've always written from a place of "experienced optimism", like, 'we've been through a lot but we survived and came out of it all stronger as individuals and as bandmates." More united than ever, TeamMate, "hope that people can find some universality in the songs of such a specific situation to us."
The release of TeamMate sees the band at the absolute top of their songwriting game, coupled with a stadium sized show. Last year TeamMate continued to gain and impress fans with their energetic dance inducing live show at a packed club residency at the Satellite in Los Angeles, and sharing the stage with artists such as Empire of the Sun, The Groves, Nina Diaz, The Shadowboxers and AWOLNATION. They were the Alt987 Artist in Residence for the month of October and hit the million plays milestone on Spotify.